What goes up must come down and that is no different for the world of fashion blogs. A few years ago, the idea that someone would spend their time posting pictures of themselves online wearing different outfits seemed ridiculous and narcisistic. That they could make money, like a lot of money, while doing this seemed ludacris.
But alas, fashion blogs became the cool thing to do. Bloggers exploded off the internet and into the mainstream of fashion. The highly coveted front row seats at fashion week, historically reserved for the most illustrious editors, were being given to these fresh-faced young bloggers with sunglasses on their heads and iPhones in their hands. They began snapping photos of themselves and the runway, all in the name of their blogs.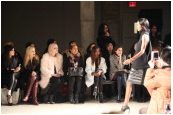 These new kids on the block quickly gained thousands of readers and instagram followers, becoming overnight success stories. However the time has come for editors to take back their front row seats and fashion consumers to take back their instagram feeds.
Magazines have finally caught up with the times and created fully functioning websites and social media content. The best of the best bloggers have left their personal blogs in favor of full fledged fashion content site, void of the too personal, somewhat narcissistic posts. Readers are no longer enthused with the idea of clicking through monetized links to buy an outfit that looks just like the blogger's outfit. It looks like the 15 minutes of fame is almost up for the era of personal fashion blogs, and it doesn't look like they will be missed.