The news of Amazon's Whole Foods purchase that broke this past summer proved to be an epic acquisition for the e-commerce titan. The $13.7 billion dollar deal with Whole Foods left people to wonder what Amazon's next move would be. Was this Amazon's attempt to expand beyond e-commerce into physical retail? Or was this a power play?
Amazon's Whole Foods purchase proves to benefit Amazon in more ways than one.
The answer is that Amazon's Whole Foods purchase was to gain more customer data on shoppers of Whole Foods, and to gain access to Whole Foods' private products.
Why would Amazon care about Whole Foods' customer data? Because over the years Whole Foods has built an arsenal of grocery shopping habits and grocery preferences of millions and millions of consumers. This extensive catalog of customer information could prove very helpful to the people responsible for the success of Amazon Fresh.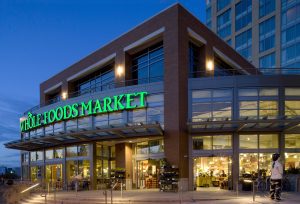 Not only does Amazon's Whole Foods purchase give information about consumers, but Amazon benefits from the fact that people need groceries. Every. Single. Week. The strategic move to acquire Whole Foods as opposed to Tom Thumb, or any other grocery store chain, is that Whole Foods is a national and notoriously expensive market. This means that the most affluent families shop Whole Foods weekly, thus providing Amazon with even more profit. Along with the higher priced goods, Whole Foods also has claim to private label 365 brand, which Amazon now has access to.
But the benefits for Amazon do not stop there. Analysts at Morgan Stanley predict that Amazon's Whole Foods purchase will not only continue to help grow the Amazon Fresh sector of their business, but will help grow the other areas of the e-commerce giants business. Brian Nowak, an analyst for Morgan Stanley predicts that over 5 million Whole Foods shoppers are not Amazon prime members. He believes that soon the partnership between Whole Foods and Amazon will drive at least half of these consumers to join Prime by 2019 (Via CNBC). Amazon's Whole Foods purchase continues to benefit the retail titan and analysts will continue to watch them closely as they conquer the market through the end of this year and in years to come.