Two of the largest tech giants, Apple and Samsung, are more closely related that people may believe. What started as a small negotiation between founders, has developed into a multi-billion dollar relationship. The relationship between Apple and Samsung will grow even closer when the iPhone X is released in November.
Apple and Samsung have a long history
Apple and Samsung are similar in many ways, particularly as the top-selling cell phone companies. However, many do not realize how closely related the two companies are. According to the Wall Street Journal, Lee Jae-Yong, the grandson of Samsung's founder, and Steve Jobs made a personal negotiation over ten years ago. This negotiation gave Jobs flash memory for iPods and since then, Samsung has continued to provide parts for Apple products. This relationship could make Apple and Samsung big bucks from the release of the latest iPhone, the iPhone X.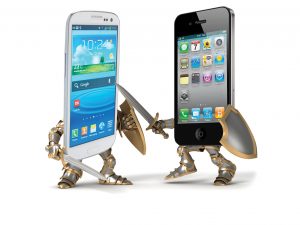 On November 3, the highly anticipated iPhone X will be released and sales are expected to be very high. Apple, of course, is very eager for the release of this latest version, however, Samsung has reason to celebrate as well. With the technology used in the Samsung Galaxy S8, Samsung will be providing both screen technology and memory chips for the iPhone X. From this operation, Samsung is expecting a $4 billion return. It is said that for every iPhone X, Samsung will receive $110. Some even believe that if the iPhone X is as successful as predicted, Samsung will make more money from the iPhone X than the Galaxy S8.
Friends or Enemies?
It might seem like two of the largest tech powerhouses in the world would dislike one another. However, Samsung and Apple's have a friendly relationship. According to the Wall Street Journal, Samsung refers to Apple Inc. as its "LO" or "lovely opponent". Apple may be is the biggest competitor but the two companies benefit and learn from each other. For that reason, they have a competitive yet friendly relationship. But will this friendship last in the long-run? We'll have to wait and see…