Technology is taking over the modern home in many ways. We have apps to control the thermostat, camera security systems, automatic vacuum cleaners and now Sony is bringing tech to our furry friends too. Aibo the robot dog could be our new companions!
Sony's Aibo the robot dog is back and better than ever
Sony is releasing its latest version of the robot dog Aibo after ten years. This robot dog does everything man's best friend can do and more! Aibo the robot dog can walk, sit and bark like a real dog. Sony uses new technology that allows it to move along 22 axes for lots of mobility. It can even make facial expressions using OLED technology to move its eyes.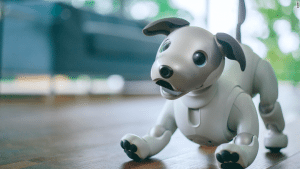 Sony says that Aibo provides love and affection to its owners and can even "form an emotional bond with members of the household". It uses special technology to adapt to the owners behaviors and can learn how to make its owners happy. Basically, it's like having a dog without the hassle of taking it outside and worrying about leaving it alone when you're at work. Aibo also takes photos from its perspectives which you can later access from the Aibo app. 
My Aibo App
Abide the robot dog also has an app, called My Aibo. The app lets you access photos that the robot dog takes, as well as access settings. You can even use the app to download new tricks from the store. With a subscription, you can also have WiFi and LTE connectivity. 
While it's not exactly the same as going to the pet store and picking out a new puppy, you can pre-order Aibo the robot dog in Japan. Aibo will be released on January 11, 2018, and will cost about $1,700. Aibo will not be sold outside of Japan for the time being so we'll have to wait to pick up our not-so-furry friends.