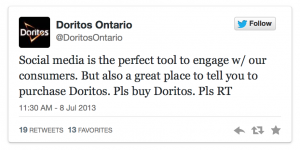 Parody Accounts vs. Real Accounts — the ultimate battle of the wits on social media. Companies should not only take notice, but take notes as parodies begin to gain more popularity than the accounts they mock.
Entertaining legions of twitter followers, these satire accounts have no trouble getting laughs but not everyone is in on the joke. Most companies are in the dark when it comes to social media, and the real joke will be on them if they don't step up their Twitter game.
Parody accounts are one of Twitter's most distinctive features. On this social media network you can virtually have any username to your liking, unlike on Google Plus and Facebook. Due to Twitter's relaxed rules on parody and satire, these accounts have become the most celebrated form of poking fun at others.
A refreshing change from the forced hashtags and boring tweets of most corporate accounts, parody accounts have become some of the most popular users on Twitter showing branded social media done right.
One of the more harmless accounts, @DoritiosOntario, started by a passionate fan has no relation Frito Lay Canada or the Dorito brand. Hysterical, personable and enjoyably strange the fake account quickly built a solid fan base while getting attention all over the Twittersphere. This account, full of personality and humor, even had some followers believing it was a corporate account.
Other accounts don't play as nice, being humorous at the expensive of those being impersonated. When the satire account is better than the real thing, that can only mean one thing for the company being mocked — bad publicity.
For instance, @DMReporter is a parody account that takes on the voice of the Daily Mail. Making fun of the  British tabloid's choice in content and reporters, this account doesn't spare any feelings.
The said truth is that most companies' social media is bland, boring and irrelevant — especially when compared to the parody accounts mocking them. Social media is the final frontier of marketing, it can be your best friend or your worst enemy depending on not only how your company uses it, but how others use it as well.