It's a new year. New plans. New goals. New resolutions. What does that mean for many of us? Time to get in shape! In the past, this may have meant training for a marathon, joining a new gym or hitting the yoga studio for the first time. However, in today's world, this might just mean checking out the latest Tweets or posts on Facebook.
According to a recent article on Mashable, health and fitness brands this year are really establishing themselves in the digital space. From fitness magazines to health centers, these brands offer exciting new ways to get in shape and meet your 2013 goals just by browsing the web.
I thought I would share the social media sites of my top 3 health and fitness brands so you can check them out too.
1) Pure Barre
This is truly one of my obsessions. I have been taking Pure Barre classes for over a year now and still love it more everyday. A perk about Pure Burre? Their social media. Pure Barre is present and active in every area of the digital space. I especially love the Pinterest page. From offering videos to help you get the most out of a Pure Barre class to healthy eating tips, the Pure Barre Pinterest page is an awesome source of encouragement and fitness advice!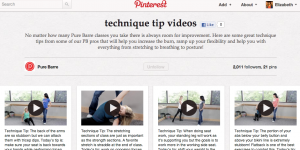 As one of today's hottest clothing brands, lululemon does not fail in the
digital area either. The company that sells clothes specifically designed for yoga and other fitness needs, also provides workout wisdom through a variety of social channels including Facebook, Twitter and others.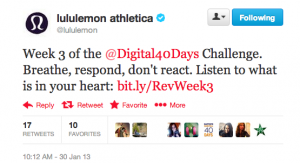 3) Bikram Yoga
While some may have a lot of negative things to say about practicing yoga in a 105-110 degree room, one cannot argue that Bikram Yoga provides lots of positivity through its social media messaging. There have been so many times that I have been just browsing my mini-feed on Facebook, when I have gained some surprising motivation from a post by this fitness brand.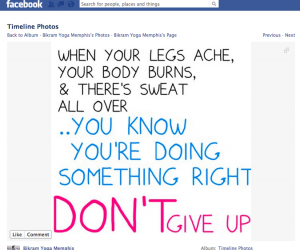 My question to you all: how are your favorite health and fitness brands reshaping your life through their social channels?