During the Super Bowl this past weekend, every facility manager's worst nightmare came true, the lights went out. Well, not all of the lights, but enough to stop the biggest television event of the year. Most viewers filled the time with Twitter, Facebook, or simply changed the channel.
In every crisis, there is opportunity. For a number of brands, this Super Bowl blackout, was the prime time for free advertising on social media.
A few of the top brands who capitalized on the break in the football game were: Oreo, Audi, and Tide.
Oreo had the most notable marketing technique. The official Oreo Twitter pushed out the following photo: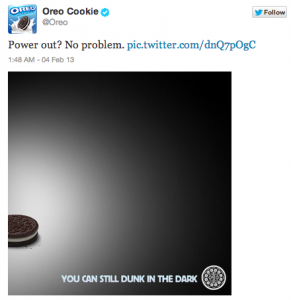 The photo went viral across Twitter in a matter of minutes and was reportedly retweeted 10,000 times within an hour. The photo emphasized that even though they had paid $4 million dollars for a 30 second advertising slot — they weren't done promoting their brand. When the digital agency 360i, was interviewed on the process of approving this Orea ad they stated that, "they created a digital war room during the event and had two brand members from Oreo present, and nearly a dozen creatives, strategists, community managers and social-media listeners." (AdAge) Ultimately this created a seamless and easy process to get approvals and promote the newly created advertisement.
In addition to Oreo – Audi sent out a humorous tweet towards Mercedes Benz USA. The Super Bowl was played at Mercedes Benz Superdome, so it was only fitting that Audi took a gouge at their competitor.

The tweet was retweeted several thousand times and was a nice addition to the original Audi commercial that had aired – geared toward a younger demographic.
Finally, Tide capitalized on the Super Bowl power outage with a photo similar to Oreo.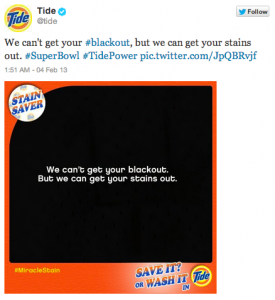 Tide's commercial had yet to air during the game cast – but the Twitter push helped them gain retweets and got their tag #MiracleStain trending.
These social media pushes emphasize the importance of being on your game during live events. Many automated tweets were continuously being pushed out during the game – even though the game had been delayed.
While the power outage couldn't be controlled, brands definitely controlled what messages they were sending during the opportunity. And this example only adds to the fire of social media taking over traditional media outlets due to it's limited costs and higher reach and frequency levels.