Social Media Satisfies Consumers Wants
With today's technology and popularity of social media, organizations are able to create specific messages tailored to the individual rather than the masses. Consumers are statistically shown to appreciate the individualized marketing that brands and organizations have started using.
Consumers today are more aware of mass media marketing, and tend to turn their heads the other way. Consumers want to feel like an individual and not a group when it comes to receiving a message. According to an article on Marketing Charts, "Some 77% of marketers agree that individualized messages and offers can be more effective than mass messages and offers", from newly released research from Conversant. With all the advances in technology, consumers are able to use social media to follow brands and organizations that they choose. Today, with the knowledge of consumers wants, organizations and brands are able to create specific messages through social media to tailor to the individual.
The social media world is very fast and very complex. Due to this, an organization needs to keep up-to-date on everything happening in the world, so it does not tarnish its name. It needs to be careful on its tweets and posts and make sure they are catered to the correct audience on the correct social media platform.  An organization not only needs to concentrate on the tailored message, but more importantly on its placement in social media. The correct message placement on social media is just as vital as the message.
On Twitter, a consumer is able to follow a preferred brand or organization and see the brand/organization's tailored message. On Facebook, a consumer can like a brand or organization and when the brand/organization posts a new message, the message shows on the consumer's newsfeed. Facebook also uses cookies from past viewed websites and places their advertisements on the homepage side panels. This ad placement on Facebook individualizes a consumer by demonstrating sites the individual previously viewed.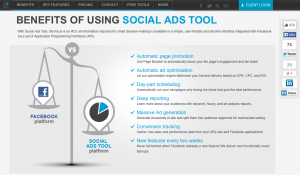 Some social media sites, such as Facebook, also allow you to create your own advertisement for their medium. Facebook, in particular, created an ads manager called the Social Ads Tool that allows one to create a targeted advertisement on Facebook. Through this tool, one can manage their advertisement and track its progress.
Ultimately, when it comes to pleasing a consumer, an organization or brand needs to target their message to the individual. Through social media platforms, an organization/ brand is able to do this effectively.