Ebooks are b
ecoming more and more popular. Not only 
are they
 

beating out the use of paperback
 and hardcover
 leisure
 b

ooks, but 
they are
 

taking over textbooks as well. The companies that sell eBooks make

 
it so
you d

on't 
have to buy a tablet to read on; you can just download the e-reader software, such as Nook from Barnes & Noble for free.
Some 
people
 may prefer to use paperback and hardcover books, but here are 10 reasons why you might consider switching to eBooks to read books 
in the future
:
It is easier to carry around. It is extremely compact, and if you have a tablet or even a laptop, it makes it where 

you have

 one less thing you have to lug around.

It allows you to read multiple books at one time. You could have 60 books on your computer or tablet, and select any single one you want to read. 

For example

, say you felt like reading a different book, all you have to do is click on a new book in your library.

No one knows what you are reading. 

If you were to get a little embarrassed if someone knew you were reading a teenage novel,  with eBooks, no one is able to see the cover, so you are free to read whatever you choose.

It is much cheaper than buying hardcover or paperback books. 

When a new hardback book is released it could cost you $17.99, but by 

buying the ebook version, it will probably cost you $9.99 instead.

It is more convenient to buy books whenever you want. Say you are bored on a Tuesday night, but you don't want to go out to the bookstore to buy a new book, all you have to do is go to a site and purchase the book without ever setting foot in a store.

You are able to make the text bigger or smaller depending on your eyesight. There is also a magnifying glass to look at words closer.

You don't need a light to read because the screen lights up itself, and 

you can change the brightness to your personal preference.

 

This is extremely 

beneficial

 when you are sharing the bed with someone else.

You have options on how you 

view the pages.  If you want to read it one page at a time you can or you can view at as if you are reading it like a book with two pages.

Some eBooks are even free. For example, Barnes & Noble has a Friday read every week, where they select a book and you can download it for free.

You are able to purchase books that are 

out of stock in

 stores, without having to 

place an order and waiting for it be shipped to your house

. You can read it instantly with a click of a button.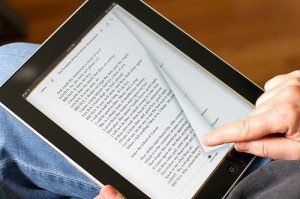 The eBook is taking over the way we read books. It is another way that technology has made out lives easier.