SnapChat's recent employment of Geotags, formally known as Geofilters, has taken over the Snap game. Each one is created by users, for users.

Geofilters are a feature of SnapChat that are available as filters upon swiping over your photo. They are unique to various locations and are only accessible in a certain declared radius of that location. Not only can you access them, though, you can create them, too.
In a few months, SnapChat will begin to accept filters created by various brand partners. This is an excellent way to get publicity for your business, because not only will it create awareness to people in the limits of the location you choose, but it will blast your brand to friends of friends and beyond.
Here are a few tips on how to create a Geofilter for your business.
Start with your image. Keep it simple, but visually intriguing. You will need to get familiar with Photoshop or Adobe Illustrator – this is where you will create the image.
Know your limits: your image must be a PNG file and have a width of 1080 pixels and a height of 1920 pixels.
When creating your image, be sure to avoid the "buffer zone".  These lie at the top and bottom of the screen and it is necessary because SnapChatters need to be able to add in a caption. (Leave some room for people to brag about how awesome your Geofilter is, duh!) 
The Geofilter also will not be accepted if it crowds the borders, so be mindful and try not to crowd the screen.
Next, you will be prompted to pick a location for your Geofilter. This part is completely up to you and your business. Just add a quick note about why the location is special to you, let SnapChat know that you are not a robot, and boom! You have submitted your Geofilter!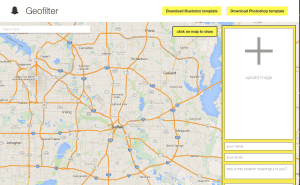 Happy Snapping!