Are you having trouble deciding what to cook this week? The Epicurious App, one of the best cooking apps, is the perfect app for you. 
The Epicurious App is the ultimate cooking tool that features more than 30,000 recipes from chefs and cookbooks and more than 100,000 recipes submitted from users. 
Download the Epicurious App for free and start by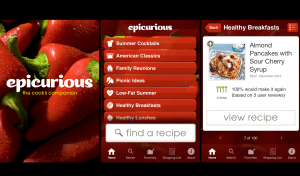 creating an account to jumpstart your recipe list and shopping list. Simply search, save, and sort recipes and begin your shopping lists to maximize your grocery trips with this cooking app.
The Epicurious App features include:
Voice-activated controls for a hands-free cooking experience

Search, organize, and share your recipes anywhere on your phone, on your computer, or on your iPad

Create, manage, and share your shopping lists

Smart Timer
Finding what you want to cook on the Epicurious App is as easy as it can get using the search tab to find recipes. You can search for recipes by an ingredient, occasion, season, dietary restraints, and numerous other options. If you are a picky eater or allergic to certain foods, modify your search to fit your needs and wants. Sometimes you do not have time to make an elaborate meal and the Epicurious App offers a quick and easy option to find recipes to fit your wishes. If you do not have time to go to the grocery store, you can simply click or un-click ingredients to filter the results to the ingredients you have in the house. After you find a recipe, you can add it to your favorites, add the ingredients to you shopping list, and you have the option to email it to a friend.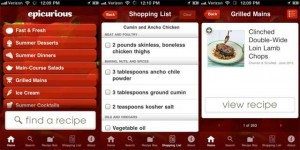 The Epicurious App neatly organizes all of your recipes depending on the main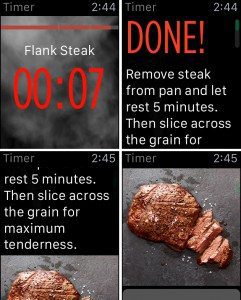 ingredient, health restrictions, and more. During the preparation of your meal, you can have the recipe instructions displayed on the side while looking at the ingredients, pictures of the meal, user reviews, and nutritional information. Another added bonus to the Epicurious App is the option to use the smart timer where you can select what you are about to cook like a steak and it tells you how to cook it or you can manually choose the time for your dish. It alerts you when to flip your food and before the timer's up, you will get some advice on how to tell when it is done.
The Epicurious App may be your new favorite recipe App. So, download it today to get your recipe and shopping list started.
For more information, download the Epicurious App to your phone or visit their website: http://www.epicurious.com