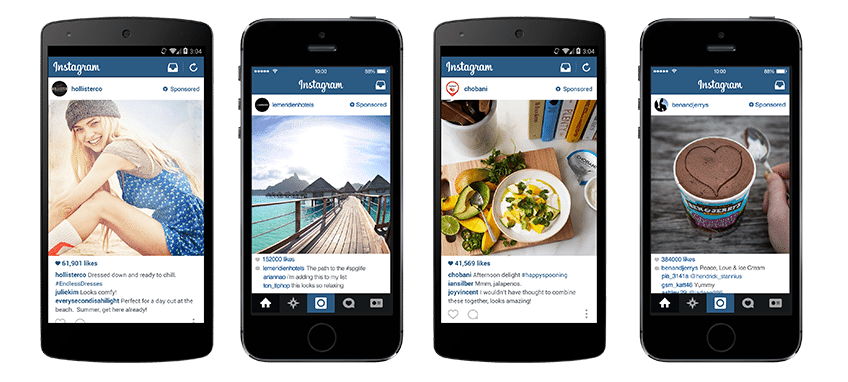 You may have noticed an increase in sponsored posts as you scroll through your familiar Instagram feed recently. Some may be annoying (you can choose not to see posts from brands that don't interest you, by the way) but many businesses are tracking an increase in interest from users who click on their ads. With over 400 million Instagram users who are highly engaged in their content, what better way for a business to tell its story in a creative way?
Whether a business is looking to generate awareness, gain more website traffic or persuade you to download its app, Instagram offers a new opportunity for companies to get more results. Essentially, businesses can drive action with their ads by sharing their own creative, personal story to viewers.
Ads for Instagram are purchased and managed through Ads Manager and Power Editor, both self-serve interfaces run by Facebook. With three different ad styles, you can cater to what your think best represents your business. There are simple images, interactive videos and carousel posts. The carousel option is interesting, because you can scroll through a few images in a single post. Overall, businesses of all sizes invested in Instagram ads have seen an increase in brand awareness, app purchase and website sales.
Marketing Land recently shared some insightful tips for bands who are looking to invest more into Instagram ads:
First, lighting and detail should be taken into account. You want your post to blend well with the quality of images on users feeds.
Another important aspect is to make sure you are presenting your brand in a soft and almost discreet way. Nobody wants to see your brand flashing in front of your eyes like an obnoxious commercial. The content is the most important part of the post.
Lastly, use minimal text. Instagram users are looking for high-quality, creative content. Long captions and text overlay are less effective for this platform.
Seeing as both big and small companies are generating positive results, it wouldn't hurt to consider investing in Instagram ads. Just make sure you are focused on the quality of the content, grabbing the user's attention as they scroll through their feed.