Ringly is the first in its family of actually-cute wearable tech. Not only will it make you more stylish though, it will absolutely make your life easier.
Ringly is the newest in wearable tech and it hugely surpasses those dorky FitBits that you loved for only one week. Though it is less advanced than the Apple Watch, it does not try to replace your smart phone, but rather is there to simply help you stay on top of emails, texts, phone calls, and best of all, your phone itself.
This glamorous piece of jewelry could have anyone fooled because under its semi-precious stone is a fully functional bluetooth system that links directly to your smart phone. The ring will flash a designated color and will vibrate each time important notifications come through (at your discretion). You decide which apps get which color and you set the vibrations for each. Epic, you may think.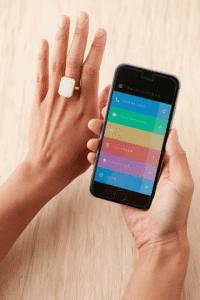 Here are some awesome features of Ringly:
It has an amazing battery life. You rarely need to charge it up, and when you do, you can just place it in its box – that's the charger!
The App itself is the central command system. So, you can go into your app and decide what is important to alert you on your hand, all day long. The vibrations are a bit strong, however, so you may want to opt for a "light only" notification.
You can choose to link up to 20 different apps to your smart ring, including: phone, iMessages/text messages, email, calendar, Uber, Hangouts, Slack, Twitter, Facebook, and more.
You can designate favorites in your Ringly app so that you will be uniquely alerted when your mom, for example, needs to ask you pressing questions like, "How do I turn on my iPad?" or "Did you try on the Spanx I sent you?"
You never have to worry about losing your phone again. The app has an "Out of Range" feature, in which case the ring will alert you if your phone is more than 30 feet away.
Give Ringly a try if you are ready and willing to cough up about $200 and  jump on the bandwagon of wearable tech, but don't want to sacrifice style. Would you order one?