Her husband refers to the leader of North Korea as "Rocket Man," calls Hilary Clinton "crooked Hilary," and belittles and demeans people through Twitter. Her goal is to end cyberbullying. First Lady Melania Trump announced she would focus her attention on the issue of cyberbullying during the presidential campaign. Since Donald Trump's election she gave a speech at a U.N. luncheon and traveled to a couple of middle schools to talk to children about bullying; it is believed that she has not yet formulated a defined program for ending cyberbullying. Given the recent comments made by a Parkland High School shooting survivor, it was time to take a look at what First Lady Melania Trump has done for the complex issue of cyberbullying and determine if she will ever actually be effective at change, assuming she is unwilling to smash her husband's phone.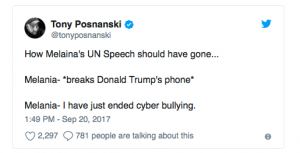 There is little action from Melania regarding cyberbullying. In September of 2017, she made a speech at the UN stating nothing is more important than preparing children for the future, "therefore, we must teach children the values of empathy and communication that are at the core of kindness, mindfulness, integrity, and leadership, which can only be taught by example." First Lady Melania Trump appeared to deliver this speech without a touch of irony.
With all the press surrounding her husband, Melania has managed to avoid the limelight. She did not move into the White House until five months after Trump. Coverage of Melania centers on who she hired to decorate the White House, her clothes, and her unwillingness to hold her husband's hand. It wasn't until Lauren Hogg, a survivor of the Parkland High School shooting called out the first lady that many people remembered she was supposed to be fighting cyberbullying.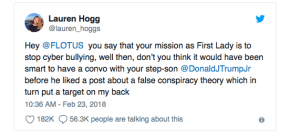 Lauren Hogg, a 14 year old Parkland shooting survivor tweeted Melania last Friday saying, "Hey @FLOTUS  you say that your mission as First Lady is to stop cyberbullying, well then, don't you think it would have been smart to have a convo with your step son@DonaldJTrumpJr before he liked a post about a false conspiracy theory
which in turn put a target on my back."
A Huffington Post Article details how Donald Trump Jr. cyberbullied this family, "President Donald Trump's eldest son "liked" two tweets promoting a conspiracy theory about Lauren's 17-year-old brother, David Hogg, another shooting survivor. The cooked-up conspiracy claimed he had been coached to speak out against guns by his former FBI agent father to "cover" for the agency's failure to prevent the shooting." The onslaught of hate and death threats that the Hogg family has apparently received following Donald Trump Jr.'s like is alarming. 
First Lady Melania Trump has yet to respond to Lauren Hogg's Tweets. Given Melania's lackluster attempts to heal an issue often exhibited in the behavior of her husband, it is safe to assume she will leave the White House having effected zero change in cyberbullying.