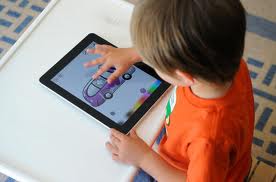 Say goodbye to Toys-R-Us, with technology advancing at the speed of light, the young generation is resorting to touchscreen devices to play with "toys". As more devices offer free toy apps, toddlers are replacing toys with touchscreens. Children are no longer begging their parents to buy them the newest beanie baby or cabbage patch doll, it's all about the iPad. Traditional toys are moving their way out of the clutter in the playroom.
According to a recent survey taken by The Michael Cohen Group (MCG)  parents recognize the play habits of their children 12 and younger and that, "Touchscreen devices got the most overall playtime according to the poll, with more than 60 percent of parents claiming that their child uses a touchscreen often." 
It seems that arts and crafts, action figures and dolls are considered out-dated. According to MCG, these traditional toys had less than a 50 percent usage rate. Other children's staples such as puzzles, gaming consoles, and board games are landing closer to a 40 percent usage among this young generation.
So, given these low numbers, is it safe to say that a touchscreen device is a toy? The fact that touchscreens provide educational value is also a huge advantage for parents, motivating their children to use the device. Certain games such as Angry Birds include their own physical toy called Telepods to add more characters to the game. While many children are forced to play educational games on these touch screens, we all know there is mostly "free play" going down.
Whether digital communication is favorable in this case, it is inevitable that physical toys are losing popularity. Having hundreds of different games at your fingertips in one device is genius. However, make sure the parental control settings are made before you let your child play with their touchscreen, no one wants to see their 7-year-old son shooting guns at others while in the waiting room.