The internet immortalizes the best and worst of people. Before clicking that submit, send, or tweet button, one should think long and hard before deciding to release their opinion for the world to see now and forever.
Unfortunately for one professional, this did not seem to factor in to her decision to write a nasty response to a young jobseeker looking to connect with her on LinkedIn. Kelly Blazek runs a popular online job bank for marketing professionals in Cleveland and when a  young 26-year-old jobseeker reached out to her on LinkedIn, Blazek did not mince her words  when rejecting the young professional's invite. You can click and read Blazek's harsh rejection below.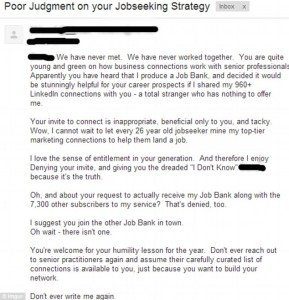 After receiving the response, the young professional did what most individuals of her generation would do, posted it on the internet for the world to see.
It is not hard to see why so many have given flack to Ms. Blazek for her cruel response. However, this situation brings to light an issue that many internet-savvy Millenials entering the workforce face. "How should we reach out to superiors in the digital space?"
As a young professional just starting out, networking can be extremely awkward. It is essentially asking for things from people who are superiors. Whether it be connecting with someone who knows someone who has a job that the young job-seeker wants or even just reaching out to inquire about an interview, the language in which a young employer asks for things needs to be very specific. Many have spent a great deal of time typing, deleting, and re-typing emails to professionals in order to get just the right phrasing so as not to seem rude.
In his job search guide, Knock 'em Dead, author Martin Yate's suggestion of using networks such as a student's alma mater or even personal network can break the ice when asking a total stranger for a job inquiry.
Check out more professional ice breakers below.
10 Tips on How to Write A Professional Email
Things You Should Never Do on the Social Network for Professionals
Reaching Out Without Creeping Out
While most professionals would never respond in Blazek's manner, it is always best to be overly polite and professional when inquiring after a job, lest you should run into a Blazek in your job-seeking pursuits!