MakerBot, known for its desktop 3D printers, has just announced its newest and most affordable model yet.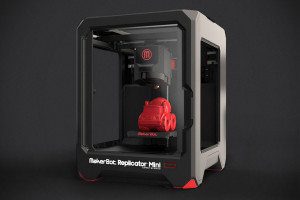 MakerBot announced in a press release on Tuesday that the company is now taking orders for the MakerBot Replicator Mini Compact 3D Printer and is expected to start shipping by spring. This newest product is already the winner of four awards from the 2014 Consumer Electronics Show, including the CES 2014 Editors' Choice Award from Popular Mechanics. What's all the buzz about?
The comapny boasts the new printer's easy-to-use format, reliability and durability. And at just $1375 a pop, it's also the company's most affordable 3D printer model and is manufactured in Brooklyn, New York.
According to the MakerBot website, the Replicator Mini can "start printing right away with virtually no learning curve." The printer is compatible with both Mac and PC and runs on MakerBot's free desktop software.
Additionally, the Replicator Mini boasts a "Smart Extruder" and on-board camera. The extruder claims to be easy to replace and "detects filament absence and automatically pauses your print." It also has the ability to push notifications to the MakerBot Mobile and MakerBot desktop apps. The on-board camera will automatically take a "reference picture" of a final print to save in persoanl cloud storage.
Bre Pettis, MakerBot CEO, stated "Reflecting the future of our products, I imagine a lot of them will look like the MakerBot Replicator Mini. We've been working hard for years to make 3D printing easy; now, with the MakerBot Replicator Mini, it is easy. We view the MakerBot Replicator Mini as a versatile and tidy 3D printer that can fit almost anywhere–up at the Space Station, at an elite insituion, or in a preschool."
Just what can be done with the Replicator Mini?  According to MakerBot, the company already has  "hundreds of thousands of free, predesigned, and ready-to-print educational, entertaining, and useful 3D models on Thingiverse." According to a MakerBot press release, Thingiverse is the company's "3D design community" where users can download the predesigned models.
As the company's new tiny technology is expected to ship by spring, we should expect to hear just how well this new 3D printing model works in the coming weeks.