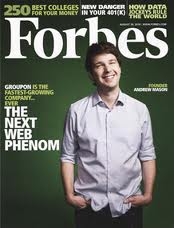 Early Thursday morning, the executive board of Groupon made the decision to fire CEO Andrew Mason. The news of Mason's exit comes one day after the daily deals site reported another quarter of dismal results.
"I care far more about the success of the business than I do about my job as CEO. I want what is best for Groupon," Mason stated in a memo he posted on Jottit.com.
The 32-year-old Mason, who created one of the fastest growing businesses in history, has received harsh criticism over the past year. On December 18, 2012, Herb Greenberg on CNBC named Mason "Worst CEO of the Year." Critics questioned Mason's judgment in walking away from a $6 billion buyout offer from Google in December of 2010.
The company released a brief press release thanking Mason "for his leadership, his creativity and his deep loyalty to Groupon."
"I'm OK with having failed at this part of the journey. I hope that the new CEO will give the company the direction it needs."
While Groupon searches for a new CEO, chairman Eric Lefkofsky and Ted Leonsis will run the company on an interim basis. Company shares shot up 4% in after-hours trading on the news.
The company's new CEO will inherit a number of problems and new initiatives. Customers have been maxed out with so many deals arriving in their inboxes. So Groupon is expanding into several new businesses, most notably a new credit card payment-processing service.