One of the hottest new social media apps is the Peach App, which launched at the beginning of 2016 by the founder of Vine, Dom Hofmann. What is it exactly? The Peach App is a more private and individualized social media app.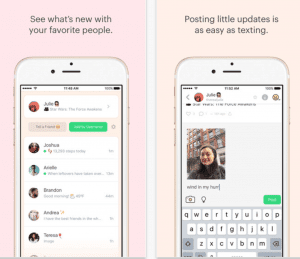 The Peach App lets users share details about their day, post funny updates, and connect with friends. It allows users to select which followers view each of their updates. With a recent new update to the app, you have the option to make your profile public, which means that anyone can follow you and comment on your posts without having to approve friend requests. While, it still allows you the option to have a private account. Another feature the Peach App offers is that it lets you send funny things to friends to let them know you are thinking of them that is similar to the "poke" feature on Facebook. One of the biggest features on the app that sets it apart from other social media services is that it features "magic words." To use the magic words, you simply type a command phrase to generate different features for your messages.
Peach App Magic Words:
Use "draw" to post a sketch or doodle.

Use "song" to share whatever song is playing on your phone. Your followers can click on the song and it will take them to their iTunes or Spotify account. 

Use "shout" to write words in capitalized letters with a background color.

Use "gif" to open a search bar full of gif options to share with your friends.

Other magic words include: time, date, movie, TV, good morning, good night, battery, weather, safari, meetings, game, and more to come!
The social media aspect of the Peach App is that your friends on the app can comment and like your posts just like other social media services. The Peach App is like a Facebook Wall, but contains no direct messaging. Therefore, it is open like Twitter. Basically serving as a messaging, communications, social network, and AIM status all on one platform. You can watch your friends update their status in real-time, all on one screen. Peach App connects you with friends in a real and personal way.
For more information, download the Peach App today to your phone: https://itunes.apple.com/us/app/peach-share-vividly/id1067891186?mt=8