The ability to reach your social media audience and make an impression is a critical element of digital marketing. A successful social media campaign involves going beyond simply identifying which platforms your audience is using. You must keep up with the trends and provide content that jumps out at them. These tools will help you stay informed on the latest trends, design visual content like a pro and pinpoint when you get it right. 
Using Relevant Content to Reach Your Social Media Audience
When using social media, using hashtags that are trending will increase the odds that you reach your social media audience. The problem is that it can be difficult to know what hashtags to use in your posts.
RightTag will suggest trending hashtags based on your content, text and media! There is even a browser extension that will let you know if the tags you want to us are currently trending. If that isn't enough for you, RightTag also allows you to track trends and view statistics.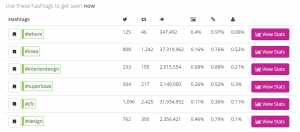 Designing content that is visually appealing is another great way to reach your social media audience. Unless you are a graphic design guru that can be a daunting task. Canva is a great tool to help you create beautiful designs with no design experience whatsoever. The site has templates for just about every purpose you can think of. It also includes tons of free images, photo filters, icons, shapes and fonts. It is truly the graphic design software for dummies.
Knowing When You Reach Your Social Media Audience
Posting visually appealing designs and using hashtags that are trending do not guarantee that you will reach your social media audience. Sometimes there is a little trial and error to posting content that your audience wants to see. The best way to see what post are working is by using the analytics provided to you by each platform. For example, twitter analytics will provide you with a 28 day summary of your total number of tweets, the impressions they received, how many times users have visited your profile, used your links and shared your post. You will find similar analytics data on Facebook and LinkedIn.
What are the favorite tools you use to reach your social media audience?