Instagram and Facebook have certain rules that users must follow in regards to music usage in live-streams and posts. Here some music copyright rules to keep in mind:
Music on Instagram Stories
Instagram encourages its users to share music through Instagram and Facebook Stories. In fact, the platforms have made it easy for you. Share music through external apps like Spotify, SoundCloud, or Apple Music. Your audience will be able to access the song as well.
Concert Videos
Live music is a drastically different experience compared to studio music. When you post a video of a song during a concert, Instagram and Facebook have a harder time noticing if you have used a song that does not belong to you. Both platforms fully permit the use of live music in posts. Share your concert experiences with your followers.
Use Shorter Clips of Music on Instagram
The more you use full-length studio music in your live-stream or posts, the more likely it will be muted or taken down. Use shorter clips of music. The safe zone is 15 to 30 seconds of recorded studio music.
Have a Visual
Create a visual element to go with the music. You cannot post a recording of a song with no visual component. Consider creating a video or photo montage to go along with the music clip you want to share.
What happens if you don't follow the rules?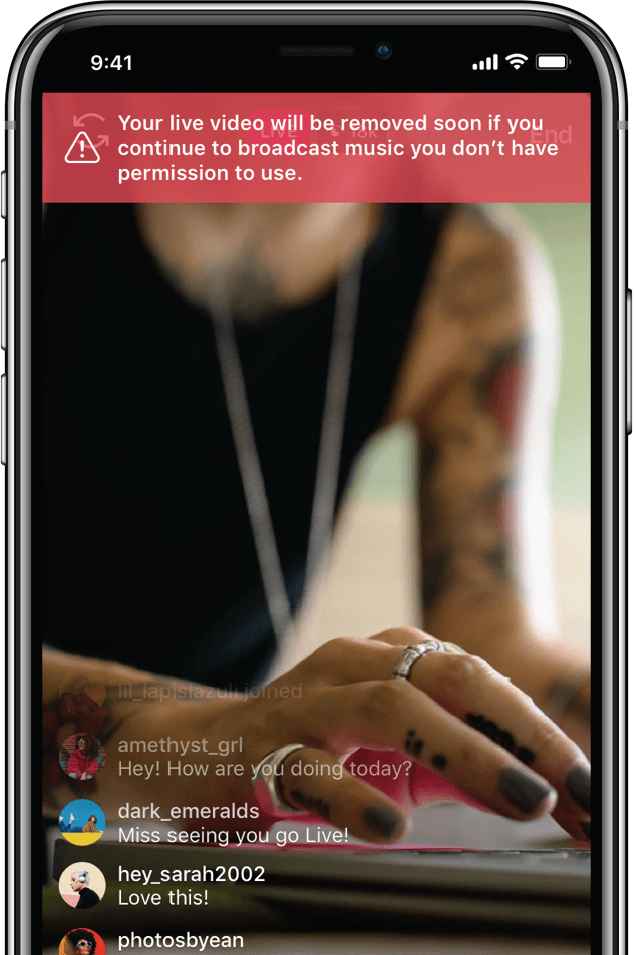 If you use an excessive amount of full-length copyrighted music, your live-stream may be interrupted, or parts of your posts may be muted or taken down. Instagram and Facebook will send you a notification during your broadcast or upload that warns you if you are using more than the permitted amount of copyrighted music. Receiving this notification allows you an opportunity to adjust during your broadcast or before your post is uploaded. Take the time to switch to non-copyright music or stop playing music in your live-stream altogether.
Musicians want you to promote them.
However, they also want to get paid. The best practice for following music copyright rules on Instagram and Facebook is giving just a teaser of a song. Give your audience just enough of the song that they will want to go find it and listen to the song in its entirety on their own.
Remember to be respectful of the artist's rights to their work. Creating music is how they make their money. If you really feel inclined to share an entire copyrighted song, create a cover of the song, add your own twist to it, or simply create your own music from scratch to use and promote.