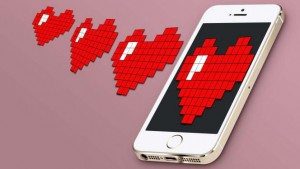 Dating in general has always been complicated, causing strife, stress and heartbreak. Throw in technology, social media, and the simplicity of cyberstalking potential partners in contemporary society and it has become even more difficult to find love. However, there is an answer to our struggle for love and it combines all three of those previous complications, turning them into positives: dating apps. These three apps give us hope that finding love through apps is a possibility.
Tinder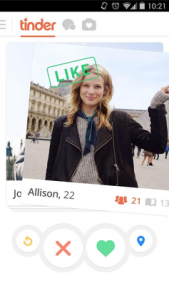 Tinder has become the most well-known of the dating apps with "swipe right" and "Tindering" becoming common phrases in our vocabulary. The app was launched towards the end of 2012 and it quickly grew in popularity, with roughly one billion "swipes" per day by 2014 according to a Forbes report. With the assistance of Facebook, Tinder builds a user profile and decides potential compatibility based on age, location, presence of mutual friends, and shared interests. Users can then swipe left to pass or right to match and from there, they will be able to chat within the app. Tinder has introduced a simple method for those interested in finding love through apps.
Hinge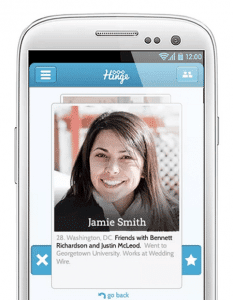 After Tinder began to gain the reputation as a "hookup" app, Hinge capitalized on this criticism and introduced themselves as the "Match.com for mobile." Hinge founder McLeod stated, "When we ask our users, they say they use the apps differently. They use Tinder when they are out and about or bored and want to mess around, and Hinge is where they meet the people they want to date." Unlike Tinder, Hinge exclusively shows potential matches that you have mutual friends with. This leads to a relatively trusted connection right off the bat and additionally shows information about work and education upfront.
Bumble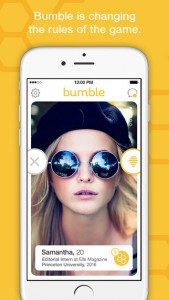 Despite being almost identical to Tinder, Bumble adds their own twist by putting the power in the hands of the female. If a match occurs, the only way to start a chat is if the female makes the move and sends the first message. If no conversation has begun after 24 hours of connecting with someone, that connection disappears. However, with same-sex relationships, either person can message first. Bumble provides a little more information than Tinder, such as the user's college and current job, while also giving users the ability to favorite conversations, sort conversations, and send photos.
Do you think finding love through apps is a possibility? Which app seems like it would bring about the most success? Comment your thoughts below.