Facebook Inc. is in efforts to incorporate Twitter's infamous hashtag symbol, a move that would establish Facebook as the paramount social platform.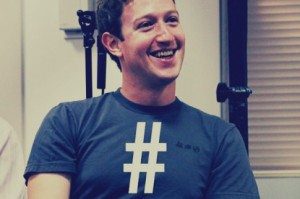 While Twitter successfully rivals Facebook in the social-media atmosphere, it is still a fraction of the size of Facebook Inc. and needs to maintain proprietoriship over all its trademarks the best it can.
Facebook's motives for claiming ownership over the hashtag are mainly monetary- considering the advertising revenue a hashtag-hyperlink can generate, and has generated for Facebook's paramount rival, Twitter Inc. A recent Wall Street Journal article discussing this matter stated, "Facebook is testing whether to follow Twitter's lead and allow users to click on a hashtag to pull up all posts about similar topics or events so it can quickly index conversations around trending topics and build those conversations up, giving users more reason to stay logged in and see more ads." The more ads we see, the more dollar signs these tech giants see.
As if the business feud between Facebook and Twitter wasn't combative enough, Facebook's ploy to obtain Twitter's most iconic hallmark is sure to add heat to the fire. . .and advertising dollars to Zuckerberg's pocket. While this rumored idea is spreading throughout Silicon Valley and the World Wide Web, any execution of such incorporation is certainly not imminent.
#staytuned!