Apple TV was first released in 2007, and since then it has grown into a must-have item. Why you want AppleTV you may ask? Recently, AppleTV has not only allowed users to watch Netflix, HBO, iTunes and more, but now you can use your voice to command the device. AppleTV allows users to keep all their media in one place, making it easy to go back and forth between Hulu and Netflix, or YouTube and HBO. With let people buying cable AppleTV is helping those stay in-touch with all the television, videos, etc they want.
As someone who still pays each month for cable, I still find myself pushing for reasons of why you (or I) want AppleTV. AppleTV makes every television a smart one, and if your someone, like myself, with roommates it can help you find more ways to share Netflix, Hulu or HBO without maxing out the users accounts.
The most recent update makes the question: why you want AppleTV, almost redundant. The new update, "…supports more than 5,000 apps [and]…lets users organize their content on the devcie, and a "dictation" element that lets customers use their voice (via Siri) to ask for any app available on the platform"(http://www.multichannel.com/news/content/apple-tv-now-home-5k-apps/403488).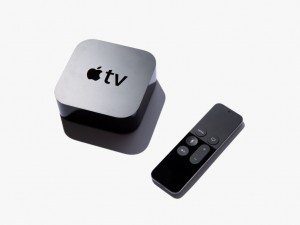 According to Fortune, the new update will also be "giving users the ability to bundle multiple apps into a single folder and name it whatever they'd like. Folders become a critical feature in iOS and Android as users add more apps to their devices. With folders, apps can be kept in categories so they can be found more easily than if scattered across multiple pages"(http://fortune.com/2016/03/21/apple-tv-software-update-event/).
By allowing users to customize their AppleTV however they want makes the device feel more personal than any TV we've seen before. We've been able to pick and chose which shows to record, but being able to organzie a TV in folders, can make ones life much easier. Why you want AppleTV, well now as someone with a big family I want it to make my own folder of my favorite apps so I don't have to search through all of my families just to find Angry Birds.
Apple is always looking for the next big thing, by adding apps to ones TV and allowing them to customize it, can help many justify why they want to pay for AppleTV over cable (myself included). These new updates are just the beginning, and I personally can't wait to see what they offer us next.