When one thinks of ways to celebrate Women's History Month this March, their mind may not immediately go to what some of their favorite brands are doing to promote it. However, more and more brands are tapping into new ways to reach their consumers. See below for some of the most interesting promotions for Women's History Month.
Johnnie Walker
Johnnie Walker has created a special label of whiskey for Women's History Month, dubbed "Jane Walker". The label features a woman instead of the traditional logo and packaging. Johnnie Walker has also agreed to donate $1 for every bottle sold to organizations that support women's causes. The whiskey brand will be giving $150,000 to the Elizabeth Cady Stanton and Susan B. Anthony Statue Fund and its Monumental Women campaign, which is a Nonprofit cause dedicated to building a statue dedicated to the Women's suffrage movement in Central Park. Additionally, Johnnie Walker will also donate to She Should Run, an organization that aids women interested in running for political office.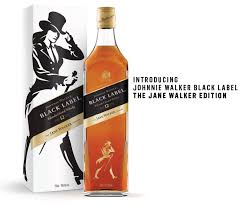 Brawny
Brawny is celebrating Women's History Month with their annual #strengthhasnogender campaign. They will be changing their packaging to feature a "Brawny Woman" instead of their typical logo. The promotional packaging will be in all retail locations nationwide for the entire month of March. Online, Brawny has created a microsite that features short film of female heroes, dubbed "Sheroes". Additionally, Brawny has collaborated with different female comic artists and animators to turn consumer-submitted "Shero" stories into animations and illustrations for their digital channels. Plus, Brawny will contribute $100,000 to advocacy group Girls Inc. in support of their programs.
Smirnoff and Spotify
In honor of Women's History Month, Smirnoff and Spotify have partnered to create the Smirnoff Equalizer, an API installment that shows listeners breakdown of the number of male musicians versus female musicians that they are listening to over the past 6 months. If people are listening to majority male, Spotify will give them a more female playlist specifically tailored to their existing taste in music, an "equalized" playlist. The activation also has a special feature, a personalized slider, that allows listeners to control the ratio of male to female artists in their playlists in order to have more "inclusive listening" for Women's History Month. Additionally, Smirnoff is releasing limited-release bottles "Phenomenal You" Smirnoff No. 21 vodka bottles. The bottles are not for sale, but instead, are being donated to 100 women around the globe paired with a donation in each of their names to the organization She Runs It.