While most Americans are working from home due to COVID-19, it is still important to maintain a positive personal brand. In fact, it is more important than ever before.
A lot goes into a personal brand. The list includes, but is not limited to, the way you dress, the way you carry yourself in a room, and the look of your business cards. Your personal brand is what people remember you by after you leave the room. Think to yourself, "How do I want to be remembered in the professional world?" Now that most companies are having employees work from home, there are a few important changes to how you should implement your personal brand. Some important tips are listed below.
Personal Branding While Working From Home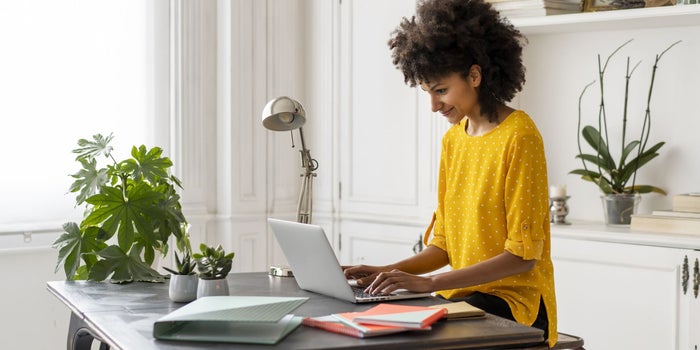 On a positive note, your personal brand is more in your control than ever before! You control the environment people see you in. You control your outfit while you sit on Zoom or Skype. And you control your level of reliability. On a second positive note, everyone is struggling to adjust to this "new normal" and no one has everything figured out. Everyone is giving one another a little more leeway with things. This is mentioned to remind you that you do not have to be perfect during this scary, historic time. It is also mentioned to remind you that you have an opportunity to shine and rise above!
Personal Branding Tip #1: Still Dress The Part
If your office typically dresses business professional, do NOT hop on a Zoom call in an oversized T-shirt. Look professional and show your co-workers and/or clients that you are still taking your job seriously from home. On the flip side, if your office is casual, still dress your personal best. Do not get too casual.
Personal Branding Tip #2: Stay Professional with Emails and Digital Messages
This aspect of your personal brand does not change! Whether you are working from home or working in the office, you should still use the same logo, e-signature, and fonts with all of your messaging.
Personal Branding Tip #3: Do Not Ghost Your Network
Even though you are not meeting up with mentors and colleagues in person, make sure to still communicate with them digitally. People will be impressed and thankful that you are still making the effort. If someone has free time, recommend a virtual coffee meeting or happy hour.
Working From Home Tip #1: Create a Professional Environment
Everyone understands that you did not have time to build an at-home office. However, you can still do your best to create a corner of your home with a non-distracting background and sit there during video calls. If you do not have a space for this, Zoom has some professional backgrounds that you can use as a green screen behind you during video calls. Use the same one each time in order to create a consistent digital brand for yourself. Click this link for a tutorial on how to add a background on Zoom.
Do your best to shut out other noises and distractions. That also means things that can distract those you are talking to. Keep the pets out of the video, try not to eat on video, and stay in one place to avoid distracting others.
Working From Home Tip #2: Keep A Consistent Routine
Keep your same work routine so that people know when they can rely on you. If you are typically on your email by 9:00 in the morning, continue to do the same. For your own sanity, it is recommended that you also sign off of your email at the same time that you used to. Keeping your regular schedule allows clients and co-workers to maintain trust in your accountability. You do not want to start slacking off on deadlines simply because you were taking a nap.
A Final Note on Personal Branding While Working From Home
Remember that we are all in this together and this is temporary. Life will go on! Do your best to stay positive and try to be a light for others.
For more advice on how to work from home, read this blog post from Kaplan Mobray.