As the pandemic COVID-19 causes panic around the world, people are finding new and different ways to entertain themselves during lockdown. Many social media apps are seeing spikes in usage, and therefore an activity rise has also been noticed in TikTok during the pandemic.
Celebrity Status
Celebrities and regular users alike have been flocking to the popular app to post sketches, sing alongs, dances, and anything in between. In fact, popular singer Joanna "JoJo" Levesque even released a parodied version of her well-known song "Leave (Get Out)" on TikTok called "Leave (Stay in)". She released this in order to promote social distancing and other necessary practices to prevent the spread of COVID-19. Other celebrities, such as Reese Witherspoon, have also made guest appearances in popular TikTok users' videos or made their own.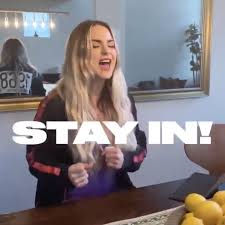 Tik Tok to the Rescue
In addition to a boost in content creation, TikTok has also taken steps of its own to help keep people busy through the current crisis. Two days ago, it was announced that during the pandemic, Tiktok will launch celebrity-hosted, daily live-streams to entertain users. The campaign, #HappyAtHome, gives users a chance to ask questions of experts and see their favorite actors, musicians, comedians, and more live on the app. It starts next week and runs Monday through Friday at 5pm. Each day has a new theme, like "Motivation Monday" and "Sound Check Friday". Tune in next week to see stars like Tyra Banks and Megan Thee Stallion!
TikTok has also recently announced a partnership with the World Health Organization (WHO) during the pandemic. It will add a COVID-19 information resource on the platform. As if that isn't enough, TikTok has also pledged $10 million to the WHO to assist with coronavirus response efforts. So, if you're looking for something to do during lockdown, TikTok might not be a bad place to start!