S-Town, a new true-crime podcast, could create a new phenomenon: podcast binge listening.  The podcast comes from the creators of Serial, the smash hit that put podcasting on the map. S-Town dropped last week in its entirety.  Traditionally, podcasts are released weekly, one episode at a time.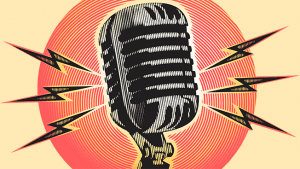 Podcasting: The New Media
Podcasting proves to be different and less predictable that its other entertainment media counterparts. Podcast data is limited to downloads. Other than downloads, podcasts do not have many broadly tracked and accepted metrics. Matt Lieber, president of Gimlet Media, which produces many successful podcasts, says that creators and their stories still drive podcasts.
Reasoning for All-At-Once Podcast Distribution
S-Town creators watched the success of the ultimate binge consumption platform, Netflix, and wondered if podcasts could follow a similar consumption pattern. Executive producer, Julie Snyder, who also co-created Serial, says that the subject matter of S-Town requires a different release formula. Snyder says, "There's a lot of paranoia and a lot of accusations that get kind of thrown back and forth. And if we were going to do it weekly, you'd have to address all those things in that episode. You can't leave someone hanging [when] accusing someone of being a murderer."
Will Podcast Binge Listening Catch On?
Skeptics argue that podcast binge listening will not succeed like weekly distribution. A major skeptic, iTunes, argued that S-Town left something on the table when abandoning weekly distribution. Serial was successful in part because of the speculation listeners shared about its storylines. This speculation made Serial a cultural phenomenon, which explains why Serial holds the number 4 spot on iTunes, even though it is three years old. But, binge listening gets rid of the need to speculate–listeners can simply keep listening.
S-Town proves to be successful, with over 4 million downloads in the last four days. But, whether the all-at-once distribution will create binge listening will be a test of time. To learn more about S-Town and what could be the future in podcasts, podcast binge listening, click here.