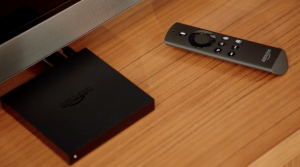 Amazon, the company famous for bringing us Kindle, fanned the flames by introducing Amazon Fire TV on Wednesday. According to the company's press release, much like Kindle revolutionized the way people read, Fire TV will revolutionize the way people watch television.
Amazon describes Fire TV as "a tiny box that plugs into your HDTV for easy and instant access to Netflix, Prime Instant Video, Hulu Plus, WatchESPN, SHOWTIME, low-cost video rentals, and much more." In addition the streaming options available, Amazon is offering up features such as voice search, to prevent alphabet grid searching. The Amazon Fire TV seems to be all about convenience as it arrives pre-registered so users can begin watching immediately. Fire TV will even buffer movies or episodes in advance based on predictions of what customers would like, through the aptly named feature ASAP (Advanced Streaming and Prediction).
Is all of this convenience an attempt to compensate in an already competitive market? Although the Amazon Fire TV boasts a "quad-core processor with over 3X the processing power of Apple TV, Chromecast, or Roku 3" and over 4X the memory, will consumers begin to take notice of the new product or stick with the current options?
According to an article published by USA Today, Amazon Fire TV stands a fighting chance. Currently, Apple TV is in roughly 13 percent of TV households and Roku is in 6.1 percent. Paul Erickson, ISH senior analyst, stated in the article that with "a competent, competitive product at the sub-$100 price point, backed by a strong brand and ecosystem, Amazon has firmly planted itself into what was formerly a two-person race." Erickson goes on to suggest that with Amazon in the mix, smaller competitors will likely be pushed out of the market.
It looks like Amazon Fire TV will likely comfortably plant itself in the marketplace as a peer to Apple TV and Roku 3. With all three sitting at the same price-point of $99.99, it will be up to consumers to choose for themselves. However, as Amazon Fire TV starts gaining usage, its superior memory capabilities may win over potential customers.