As Amazon joins the game of Apple TV, Roku and Chromecast with Amazon Fire TV, communications professionals are beginning to see a pattern of people leaving behind their traditional cable TV's and cord cutting being the new trend.
Amazon Fire TV was released Wednesday, April 2nd allowing them to compete in the market with Apple, Google and Roku. It costs $99 and will stream Netflix, Amazon Instant (of course), Hulu Plus,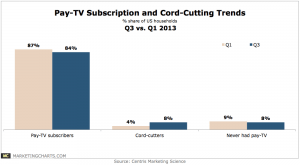 Showtime Anytime, Crackle and Vimeo, and more to be named. Apple TV is probably the primary competition, with name recognition, although Google's Chromecast is offered for just $35 and with a dead simple operation. Roku remains a competitor, and don't forget about game consoles: In 2013, the PlayStation 3 was the No. 1 connected television platform for Netflix streaming, with the Xbox 360 not far behind.
Cord cutting refers to the process of cutting expensive cable connections in order to change to a low-cost TV channel subscription through over-the-air (OT) free broadcast through antenna, or over-the-top (OTT) broadcast over the Internet. As many of you are aware, these new phenomenon allows users to no longer pay top dollar for 500 channels where "nothings on." Instead, users are allowed to watch what they want, when they want. These different providers work with various over-the-top (OTT) services, such as Netflix or Hulu, to stream content onto televisions.
Personally, I am a huge fan of cord cutting and OTT. Since I've been in college, I haven't  seen the necessity of getting cable when I can pay a small fee for Hulu or Netflix. I got a Chromecast for Christmas and have loved it. It's simple and extremely easy to use.
This new trend of cord cutting is important to pay attention to for communications professionals because how our publics receive their content dictates how we will attempt to interact with them. Also, with these devices becoming increasingly popular, traditional cable providers are going to have to re-think their business model.