Social Media not only serves for people to keep in touch with their friends and the latest news but also it helps to promote causes and bring awareness to those causes.
In the past month a  campaign to bring awareness about cancer and to raise money for cancer research went viral on social media specially on twitter and instagram.  This campaign consisted on uploading a picture with no make up on and tagging it with the hashtag #nomakeupselfie as well as #nomakeupselfieforcancerawareness.
The #nomakeupselfie campaign started in the UK and it is expanded to  the U.S. Besides posting the selfie with the hashtag one has to sent a text with the word beat to inmediatelly  donate  £3 for cancer research.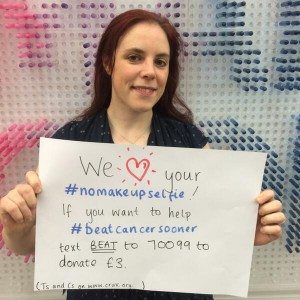 This campaign has worked because it combines things that people do every day:  taking selfies, using social media and hashtags.  Social Media has spread the use of hash tags (#)  to set trends and to identify pictures these is most common seen in twitter and instagrams.
After three weeks the campaign to raise money for cancer research has raised a total of £8 million. In addition, the research will help fun 10 clinical trial.
The campaign got a lot of critics because it appealed that it was deviating from the cause. However, the #nomakeupcampaign is a good example of how trends can be created on Social Media and can easily go viral and get support from many all over the world.