Jimmy Fallon to take over the Tonight Show from Jay Leno next year was the official announcement from NBC. Fallon has been the host of Late Night with Jimmy Fallon.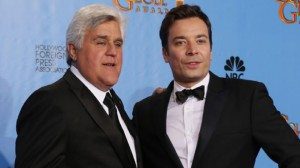 Jimmy is very well known in the industry. He started out on SNL and has also stared in quite a few movies. In 2009 after his acting stints he became the host of Late Night With Jimmy Fallon, which was originally Conan O'briens time slot on NBC. Since then he has seen a swift rise to the top.
Jimmy Fallon is a young fresh face who caters more to the younger audiences than Jay Leno. This was  what NBC needed considering there dismal ratings as of late. Not only is Jimmy current but he is also very media savy. His twitter account boasts over 8 million twitter followers. Leno only has 532,000. There is a clear gap.
Jimmy is the future Leno is the past. Furthermore Jimmy is everything Leno is not. Unlike Leno Jimmy is seen in a positive light and is very likable. After Leno's Conan O'brian hackle, his reputation took a hit. He is the perfect person to draw in knew viewers while keeping the o'l faithful audience.
Fallon also a triple threat, he is an comedian, actor, and musician. He will bring something to the tonight show that has never been seen before. And he knows how to connect with his audience through social media. Furthermore is Youtube page has 112 million views. This is especially important because more people are watching their favorite tv shows on the internet compared to regular TV.
This move to younger late night talk hosts has been a trend recently.Young comedians like Jimmy Kimmel are showing the new era of late talk hosts. Like Fallon, Kimmel is very social media friendly and is able to draw in the younger crowds. Since moving to the same time slot as Letterman and Leno he has been performing extremely well. Kimmel's move to a new time slot is one of the reasons why Leno got the boot. NBC needed to cater to the younger audiences. The future is bright for Fallon. The man is smart, driven, and knows how to connect with his audience in an ever growing social media world.