It might be easy to count how many drinks you have had at a bar, but do you know what your blood alcohol content is? How do you know if you are below the legal limit for alcohol content? We have all heard of breathalyzers, but with the new attachment called the Breathometer with just one blow you will be able to see your blood alcohol content.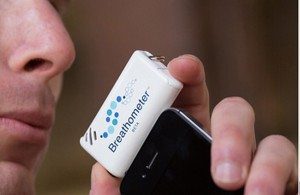 This attachment hooks right up to your phone, and allows you to breathe into it to see your blood alcohol content. A problem that has popped up with other breathalyzers is their heavy weight, bulky size, and expensive price tag.  The Breathometer is lighter, smaller, and cheaper. This attachment is more available and affordable to the average consumer. Another plus that this breathalyzer has is that it is easy to calibrate what your content is. Older versions made it very difficult to understand what your content was.
The attachment is currently a part of an Indiegogo campaign that begins April 13, 2013. This type of campaign means that how much you donate will result in which shipment you will get it. The first shipment will be going out sometime in July 2013. The more you donate, the faster you will get the product.
With just one blow, you can save yourself the trouble of whether or not you should drive after having a beer or glass of wine. By knowing your blood alcohol content, you can save yourself from driving home drunk.
This product is very practical for those who worry about drinking at all and then driving down the street. The device will benefit its users with just one blow. The Breathometer is just starting out, so time will tell if this attachment is really all it is cracked up to be.