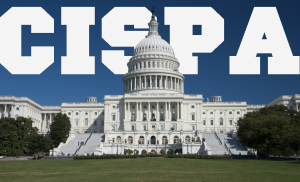 In a session closed to the public, the House Intelligence Committee approved the controversial Cyber Intelligence Sharing and Protection Act (better known as CISPA) by an 18-2 vote. The bill will now appear in front of the House of Representatives next week.
The amendments to CISPA are intended to enhance America's defense against cyber threats by allowing more information about online attacks to be shared between the private sector and the government. Opponents of the bill, however, are worried that increased security measures will infringe on personal privacy.
Representatives Mike Rogers (R-Mich.) and Dutch Ruppersberger (D-Md.), the authors of the bill, addressed these privacy concerns in a statement that said that the changes would require the government to strip personal information from the data they receive from private companies, and the government would not be allowed to use that information for national security purposes. The two Congressmen feel as if the changes strike the right balance.
"What we came up with, we think, is the right approach. It is the one bill out of everything you've seen on both sides of this great institution of the United States Congress that protects a free and open Internet and allows people to share cyber threat information to protect their clients, their business, and their personally identifiable information," Rogers said.
However, the committee did vote down other proposed amendments that were aimed at improving privacy protection. These would have prohibited the sharing of private information with the NSA and the Department of Defense, as well as required companies to strip identifiable information from data themselves- instead of leaving that task to the government.
CISPA already passed in the House a year ago. But a timely White House veto, in part based on privacy concerns, killed the bill, which never saw the Senate floor. Meanwhile, Internet freedom activists are ramping up their campaign to defeat CISPA just like they did with SOPA last year. The challenge opponents face this time around is that there is no consensus among tech companies in opposition of the bill. Many smaller tech companies have expressed their opposition, but tech giants including Verizon, IBM, McAffee, and Oracle favor it. Microsoft dropped its initial support, Facebook has indicated it's not terribly in favor of it, and Google has not taken a stance yet.