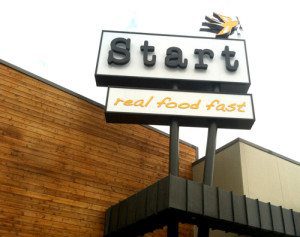 So let's state the obvious, fast food is convenient, cheap, fatty, greasy and, honestly, really yummy. Eating the hot fries out of the bag on the drive home is pretty much an awesome and unavoidable thing.  And who doesn't love rolling up to the drive thru hungover as hell knowing that you're just an arms length away from what is quite possibly the remedy for too much tequila? Not that excessive liquor consumption is good for the liver, but we're just adding insult to injury when we eat fast food. So, it's time to start eating healthy fast food.
What is healthy fast food? No it's not McDonald's new wraps that try to act all healthy. Instead, it's restaurants like Start, located on University and Greenville Ave. Start has a challenge because it is more expensive. $7 for a Start burger versus a dollar menu does not seem very fair.  This food is served "fast food style" with a drive thru and quick service. Now, for those of you who have had the privilege to dine at Start, you know it does take a little longer to get your food. However, average wait time is usually only about 2 minutes. I know that's not a speedy as say Whataburger but think about what you are spending that time on. That short wait delivers quality, cook to order food.
The menu definitely makes the wait worth it. It is made up of items that are organic, cage-free, hormone and antibiotic free, local, vegan, and gluten free options.  Serving breakfast, lunch, and dinner, menu is very unique. Egg white sandwiches on wheat English muffins, quinoa salads, and 100% grass-fed free range beef burgers are just a few of the healthy fast food options.  Restaurants like Start don't need to rebrand and try to figure out ways to attract (trick) health conscious consumers.
Take these articles about Taco Bell and McDonald's healthy fast food attempts and see for yourself. They use tricks like green labels instead of simply choosing to make quality food. Do stop in at Start and check it out.
My Start recommendations:
Breakfast: Smoked Salmon & Cream Cheese
Lunch/Dinner: Veggie-Bean-Quinoa Burger
Dessert: Ice Cream Sandwich