For some people, graduating from college is the last step into adulthood. Freedom, your own place, and cooking for yourself. Being a Hispanic I can handle heat, especially in the kitchen. As a small gift to graduating seniors, here are a couple of 'Authentic Mexican Recipes'.
We have had this discussion many times in class. Yes, Diggs might be good to the majority of students, but you do not know what you are missing. These few recipes are simple and tasty. Pair together or get creative. I did adjust them to not be too spicy, as you might know I have a high tolerance for spicy food. These are recipes of my own. On another note, these are healthier versions of classic Mexican Food, and are portioned to feed four people.
Not Too Spicy Salsa Verde
1 small can of Tomatillo (Green Tomatoes)  These will be next to the jalapeños in the cultural section of your grocery store.
1 small can of Jalapeño Peppers (Pickled)
1/2 bunch of Cilantro
Drain Tomatillos, and put them in a blender. Wash the cilantro and trim the ends of the stems. Place half of the bunch in the blender. (Use the stems for more flavor, or just the leaves for less flavor).  Add jalapeños according to your taste.  Add a small amount of the pickled juice or you can add water (1/4 cup).  Blend for about two minutes, and done.
Cilantro White Rice
3 Cloves of Garlic (Peeled)
1 Cup of White Rice
1/2-1 Bunch of Cilantro (Wash, Trim and Chop)
2 Tbsp of Olive Oil
1/4 Onion (any cut is fine)
1 Cup of Chicken Stock
1 Cup of Water
Place a medium sized pan on medium heat.  Once warm, add 2 tbsp of olive oil.  Add onion and rice into the pan.  Mix until rice is coated with oil. (You stir the rice until it is bright white). Once the rice is bright white, add the water, chicken stock, garlic cloves, and cilantro to the pan.  Stir all the ingredients well and bring to a boil.   Once boiling,  cover the pan with lid, turn down heat setting to low and set timer to 20 minutes. DO NOT TAKE THE LID OFF!  It is important to let the steam stay inside the pan.  Once time is up, let the rice sit for about five minutes, then fluff with a fork.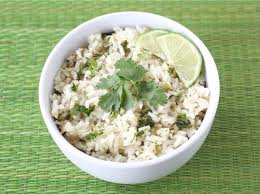 Chicken Tostadas
1 Rotisserie Chicken (Shredded)
[If you prefer to make it yourself, roast 2 chicken breasts with EVOO, salt, and pepper at 400 degrees for 30 minutes. Cool and shred.]
1 Can of Black Beans
1 Cup of Diced Tomatoes
Romaine Lettuce or Shredded Cabbage
Shredded Cheddar, Pepper Jack, Coby Jack, or Mozzarella
8 White Corn Tortilla
Optional
*Sour Cream,  Avocado,  & Jalapeños adds a more authentic taste!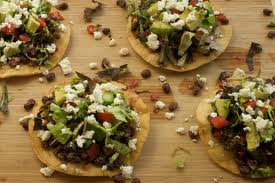 Preheat Oven to 350 F. Place foil on a cookie sheet and place the eight corn tortillas on them. Place in the oven, and bake until golden brown (10-15 minutes). I don't like frying my tortillas. Set a small pot on medium heat and add canned beans. Cook until bubbling. Then mash them, much like mashing potatoes. Set to the side to cool. Once the tortillas are ready and cooled, spread mashed beans on the tortilla tostada. Then add shredded cheese and chicken. Top with lettuce, tomatoes, and Spicy Salsa Verde.
This menu takes me about 30 minutes to prepare. I hope you guys can make it for family, friends, or a boyfriend/girlfriend/fiancé. Fresh Lime juice added to any of these recipes adds such a good flavor.  Again, congratulations to all graduating Seniors. Best of luck, and if you want any 'Authentic Mexican Recipes' never hesitate to contact me.  grodriguez@smu.edu or twitter @gelenarh.
Happy Cinco De Mayo!!!! And if your really feeling festive, add your FAVORITE drink…
Picture Credits:
Cumin-Lime Toasted Black Bean Tostadas with Garden Tomato Salsa