Outfit Comparison Tool Gives Shoppers Fashion Advice
Picking outfits alone can be stressful, but Amazon's new outfit comparison tool can help individuals still get an opinion. Outfit Compare will give users an Amazon stylist's opinion on which outfit looks better.
To use the outfit comparison tool, shoppers share two photos of themselves wearing the different outfits they are deciding between. The users receives a response in minutes from a qualified Amazon staff member. The Amazon stylist scores each outfit using the Style Scale. The style scale has three rankings. The ranking choice given describes the outfit selected. The results take into account different aspects people look at when picking their own outfits. Amazon says stylists examine how the clothing fits, what color looks best on you, how the outfit is styles, and what is on trend. Results are personalized to the user.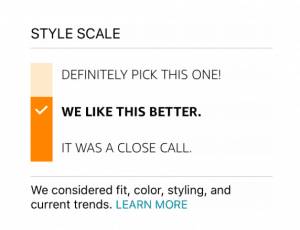 Amazon suggests taking both photos with a similar pose and background. This way it is easier for the stylist to compare, but is not necessary. Mirror selfies are accepted, but only with a full-length mirror.
The advice is coming from individuals with a background in fashion. Amazon says the stylists have experience in the fashion industry including retail, editorial, styling, and creative fields.
The stylists can assist in different scenarios when choosing between outfits. They give the user another opinion. The feature can help when deciding on what to keep after receiving an online purchase package. They can also just give an opinion when an individual is getting ready on their own.
The feature is part of the Amazon app. Users can find "Outfit Compare" under the "Programs and Features" section. The tool is only available to Prime members and is free. Outfit comparison feature is only offered on iOS devices, but an Android version is in the making.