Reposted Image of Free Red Swimsuit Goes Viral
Swimwear company Sunny Co. posted a promotional offer last Wednesday that turned Instagram feeds into a repeating feed. The offer was one millennials could not turn down. The task was simple.  Repost the photo on Instagram and tag Sunny Co. within the first 24 hours of the original post, and get a free red swimsuit.
The response the swimsuit brand received was much more grand than they expected. The photo received more than 338,000 likes and thousands of reposts. They sold out of the red swimsuit on their website. This social media response was so unexpected Sunny Co had to modify the Instagram offer. The company shared a follow-up Instagram post with modifications.
"Due to the viral volume of participants, we reserve the right to cap the promotion if deemed necessary," Sunny Co. wrote. It suggested that there could be delays because of the "overwhelming volume of orders."
The swimsuit photo sure kicked off the Summer vibes nice and early. The photograph was filling Instagram feeds. Sunny Co.'s promotion was not only just a hot topic on Instagram. Twitter users took to the social media site to rant about the obnoxious photo that was repeating on their feeds.

Memes were made mocking the company's social media promotion.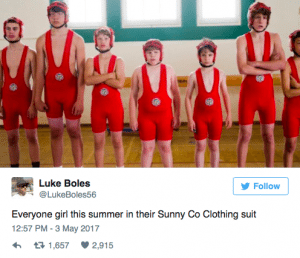 Publicity and Advertising
Even if it was not their intentions, Sunny Co. did gain major publicity in their target market. They got their name out. Summer is coming, and girls are looking to purchase swimsuits to wear to all the warm weather festivities. Sunny Co is now fresh on their minds, even if someone is not in the market for a free red swimsuit. In their follow-up post, Sunny Co gave users a promotional code to use on their other suits. Swimsuit buyers now have a website in mind to browse.
The company was able to gain publicity on Instagram for free. They did not have to pay for an advertisement post or pay an influencer. Using the influencer market can be pricey. According to AdWeek, the average price per sponsored post is $300. In Sunny Co's case, every time a user reposted the photograph and tagged the brand, that was another advertisement.
On their webpage, all but one of featured swimsuits are sold out. They have a Q&A on the home page in regards to the promotion. The brand said their Instagram page has been blocked but they are working to resolve this issue. The promotion capped off at 50,000 users, so 50,000 girls will be sporting their free red swimsuit on the beach this summer.