In the social landscape dominated by established giants like Twitter, Instagram, and Vine, a contender has been climbing up the ranks: Keek. No, that is not a typo.
According to Keek's website, the app serves as "a revolutionary new way to discover the world and interact with others," allowing their users to upload and share short video clips with their friends. While some may argue that this is very similar to the market Instagram already dominates, Keek is incredibly popular since its March 2012 debut.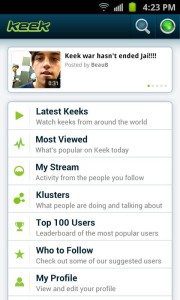 Users upload 36-second videos, also known as "keeks", which are then shared with their followers. Followers are able to respond to their friends' keeks with a "keekback" – a comment in video form. Keek also has a private messaging feature and verified accounts, similar to aspects enjoyed by users of Twitter and Facebook.
Speaking of verified accounts, Keek has an impressive celebrity following. Celebrities like Kim Kardashian and Kyle Jenner use Keek to keep up (get it?) with their fan bases across the world, as it creates the opportunity for interaction on a more personal level.
Keek's unique functions pose an interesting question – could companies begin using Keek for customer support? Imagine having a question or concern about your product. You could film the defective product in your keek and tag the company. Moments later, a customer service representative would send you a keekback, solving your problem with instructions or advice in video form.
Is Keek here to stay? In this fast moving industry, only time will tell!