PayPal's 2013 free app upgrade brings convenience and variety to consumers in the world of mobile wallets. The company is now looking to expand past the online payment services it previously offered.
The ability to order in advanced before even entering the store, is what sets this app apart from the previously desired swipe of a credit card. Consumers favored using credit cards or cash versus fumbling with a confusing app, which made people reluctant to use mobile wallets. Now, Pay Pal allows users to order before stepping foot in the store, making it more convenient than a credit card!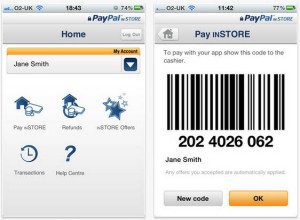 The app has a  "Shop" option where local locations that accept Pay Pal are listed and users can shop in advanced and order ahead giving them the opportunity to skip lines and make a quick exit!
When using the app at restaurants, users no long have to waste time waiting for a check or their change at the end of a meal. Menus of certain local restaurants are even available to view on the app! Consumers are able to pay and leave after using the app without any signature or paper check. McDonalds, Jamba Juice and Starbucks are among the businesses that have picked up the PayPal option.
The question is, which will Americans prefer…the tap of their finger, or swipe of their card?