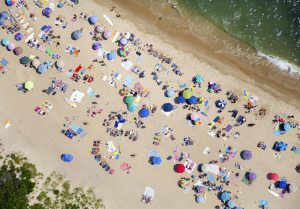 Oh, how I love Gray Malin's ability to transport us to far away destinations at a bird's eye view.
After he left us obsessing over prints from some of his classic collections, "Prada Marfa," "À La Montagne," and "Up and Away," Gray Malin wows with images of the most stunning shores across the globe. The acclaimed photographer's iconic series, "À La Plage," spans six continents, illustrating the most sought-out beach destinations from an aerial view.
A simple beach or pool becomes a blank canvas that allows me to start seeing the world as art. — Gray Malin
When we thought he couldn't impress us any more, Malin leaves us pining for the crisp white sand, salty waves and teeny-weeny bikinis that we won't see until Spring Break. As if we need another reason to love the beach, Malin has us swooning over the vibrant and playful essence of every shot. A little ironic coming from a man named "Gray" don't ya think?
Gray: The New Black and White
Gray Malin captures the true essence of summer bliss in every print. If you're looking to liven up your drab walls with sun-soaked photographs, look no further. Spotted in upscale Dallas boutique, Forty Five Ten, online at One Kings Lane, or at the Gray Malin online shop, these playful photographs express the iconic beach culture of hot spots like St. Tropez, Rio de Janeiro, Cinque Terre, Malibu and Miami in a way that make you want to buy a one-way plane ticket and never come back.
Check out Gray Malin's photography collections at http://maisongray.com.
Photo credit: Gray Malin