Yesterday, Facebook made the transition from virtual currency Credits to local currency payments. The virtual currency Credit model that started in June 2011 with the hope of making Facebook App payments easier, turned out to make international payments more complex with always changing exchange rates.
Originally, Credits seemed like a good idea for Facebook to earn 30% on game purchases made on the site. One Credit cost $0.10, which could then be used to purchase virtual goods or game currency. Using credits instead of local currency also seemed like a secure way for customers to make transactions with a company they trust rather than an unknown small developer.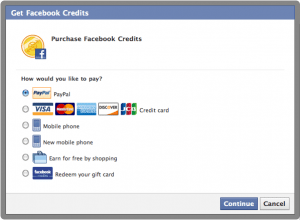 While the idea had its pros, the cons outweighed them. By using local currency in the apps, developers can come up with better prices for their virtual goods and users have a simpler idea of the value of the items they are purchasing without having to consider exchange rates. Users can now buy virtual goods in games by using PayPal, credit card, gift card and mobile payment apps.
By switching to local currency and eliminating the Credit purchase step, the hope is for purchase frequency to increase. Also by eliminating the think time to figure out how much these virtual goods cost and being able to see the actual amount in your local currency, there is a better chance that users will go through with their purchase.