In 2013 the popular saying, "an apple a day keeps the doctor away," should be re-written to "a sync a day keeps the doctor away." Monitoring your health  takes only clicks thanks to the popular wristband and corresponding app, UP.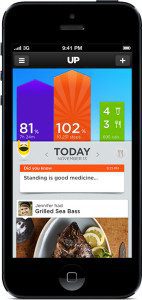 Users wear their UP wristband 24 hours a day and simply plug it into a USB port to download and analyze their data. "Up is system that takes a holistic approach to a healthy lifestyle," it automatically tracks your daily movement–distance, calories burned, activity time and activity intensity–and sleep cycles–hours slept, light vs. deep sleep and waking moments. Users also have the ability to track their food & drink intake and mood; UP then uses this information to offer insights and patterns for the users everyday life.
UP was created by Jawbone, a privately held company that develops "human-centered wearable technology and audio devices unparalleled in their technical innovation, ease-of-use and sophistication of design." Jawbone created 220 design plans, 115 patents and 141 parts before releasing UP. The wristband underwent  2.9 million hours of testing to ensure its durable, water resistant and ten day battery capabilities.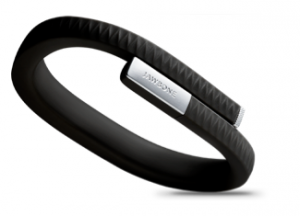 UP retails for $129.99 and comes in three sizes with eight color options. For more information on the technological health revolution visit Jawbone.