The celebration of a passed life is the common way to mourn the loss of a loved one. The celebration of their death– not so much. The Reddick children of Reno, Nevada used the local newspaper obituary as a chance to express their hatred towards their abusive mother and to raise child abuse awareness to Americans.
 This past Tuesday, the Reno Gazette-Journal published a scathing reflection of a woman's life and relationship with her children. Since the release, the obituary has gone viral, creating an Internet sensation.
Marianne Theresa Johnson-Reddick died August 30 at the age of 78. Before her hospitalization for bladder cancer, the deceased Johnson-Reddick lived in her mobile home surrounded by her 15 cats. Instead of branding her with the preferable title of "cat lady", readers of the obituary are instead, astonished by her reputation as an "abusive" and "violent" mother.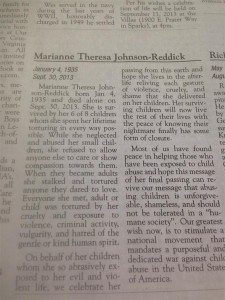 After their removal from their mother's care, six of the eight Reddick children grew up in Carson City orphanage. Estranged from their mother for roughly 30 years, the now grown Reddick children's hatred and pain from their childhood still rings strong as they "celebrate her passing from this earth".
 Former Nevada State Senator, Sue Wagner, met with the Reddick children years ago when she was working on the authorization of the legislature to allow children to sever parental ties.  Wagner claims the Reddick family situation was a case that helped move the legislature along to give child abuse victims a chance to remove themselves from their parent's toxic care. 
The Reddick family hopes that their story of their abusive childhood will raise awareness for children who suffer from similar situations at home. Katherine Reddick, the author of the obituary, rightfully argues, "Abusing children is unforgivable, shameless, and should not be tolerated". The obituary reads that their"Greatest wish now is to stimulate a national movement that mandates a purposeful and dedicated war against child abuse in the United States of America".