As college students, we are constantly told by others to think before what we post on social media. We are told this because everything we post on the internet is permanent, even if we delete. Many of us who are preparing to graduate and begin looking for a job, have become cautious on exactly what we put out there on the internet. In the last month, two stories of two young adults  have gone viral after they posted their wrong doings on social media. We can witness how these two individuals had extreme social media fails. 
Earlier this month, college student Samantha Lynne Goudie was arrested while she tried to rush onto the field during a football game. She was arrested for public intoxication and put in a holding cell. Upon her release she took to her Twitter with the Twitter handle @Vodka_samm to tell all about her wild experience.
Here are her first tweets coming home from jail: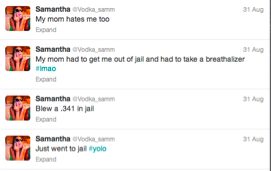 She gained over 20,000 followers and despite Goudie deleting her Twitter account, and thanks to cache all her drunken tweets, photos, and vines still linger on the internet. Even her mug shot is on the Internet!  Goudie final tweets went along the lines of her saying what happened to her is not a big deal and she's just like every other college student.
SMU college students know how important it is to clean up our social networking sites, especially when you start to begin looking for employment. Let's use Goudie is an extreme example of what not to do.
Lessons learned from Goudie:
1. Don't ever make a screen name like Vodka Sam. Stick to something professional.
2. Don't post photos of yourself extremely drunk.
3. If you happen to get arrested, don't post it on the internet. Just doesn't make sense why you would want people to know that.
On September 3rd, Matthew Cordle confessed on YouTube of killing a man while he was drunk. His YouTube video went viral after he posted to the organization "Because I said I would" page. The organization encourages "bettering humanity through the power of a promise." Organizers of the campaign send out promise cards on which participants can outline charitable acts or other good deeds.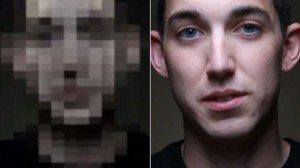 After the video went viral, Cordle is in currently facing what his charges will be and is currently trying to plead not guilty. *story still developing.
Lessons learned from Cordle:
1. FIRST! NEVER DRINK AND DRIVE!
2. If you do something wrong/illegal and have guilt about it turn yourself in.
3. Don't put a confession like this on the web and then try to plead not guilty.
Overall, these two cases have shown how social media was used as a platform to display bad choices and actions. It is clearly not the best way to utilize social media. Be smart on what you post on the internet and remember that whatever you put out on the web is permanent.