With recent crisis situations like the Washington Navy Yard shooting, Twitter has shown to be an extremely useful tool in the fast spread of information.
With millions of users utilizing social media across multiple platforms, it has become a powerful communications tool for all types of businesses, when used correctly.
Twitter deserves a considerable amount of attention because their users are the most likely to spread what they see either by retweeting it or by word-of mouth.
With the Washington Navy Yard shooting, The U.S. Navy has demonstrated how Twitter can be an extremely useful tool in the fast spread of information. The first news broke with the Navy reporting on its Twitter feed that there was an "active shooter" at Building 197 at the Navy Yard, and that three shots had been fired at 8:20 a.m.
By about 9 a.m. the Navy's Twitter account was pointing followers to a full statement reporting that there had been deaths and injuries.
Another example of Twitter being utilized during a crisis situation was during the Boston Marathon attack. Through the use of their Twitter page, the Boston Police Department was able to skillfully drive the conversation of the public by advising them, broadcasting calls to action, and sharing moments of triumph.
On April 19th, 2013 the Boston Police Department tweeted that they had caught the suspect. This message was retweeted by more than 76,000 users, demonstrating that this information was spreading and it was spreading rapidly.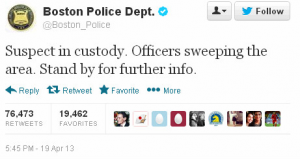 Turning to social media as a crisis management tool can prove to be a highly successful attempt to reach the broadest audience as quickly as possible. When used responsibly, social media can spread reliable, potentially life-saving, information instantaneously. During a crisis it has become imperative that businesses properly manage their social media messages to constantly push out updated information and quickly respond to any inaccurate messages. Timely updates are important because silence leads people to believe that you have something to hide.