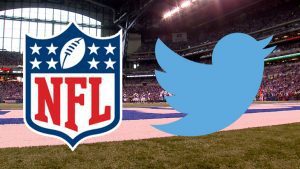 The second weekend of September marked the beginning of the professional football season. This season, the National Football League and Twitter have partnered to offer a NFL Twitter live stream during Thursday night games.
The Format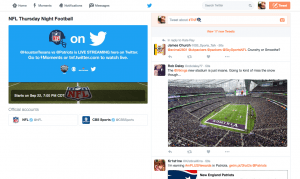 According to Tech Crunch, Twitter outbid Facebook and Amazon to offer live streams of Thursday night football games. Twitter also created apps for Apple TV, Fire TV and Xbox One for those who prefer the big screen to a computer screen.
The actual page of the NFL Twitter live stream has a simple layout: there is the actual video at the top, a live feed of tweets with the #TNF hashtag and a place for viewers to compose their own Tweet. Viewers do not have to be signed into a Twitter account to view the stream.
The Numbers
Over 2.3 million people checked out the NFL Twitter live stream, but according to Engadget, there was only an average of 243,000 viewers at any given time, and viewers only stayed on the page for an average for 22 minutes. The stream was about 30 seconds to one minute behind the live television broadcast, which is pretty average for any online stream, but viewers complained about the lag time.
Live Growth
Twitter CEO Jack Dorsey says that Twitter is best at live news, and they are choosing to focus on their strength with the NFL Twitter live stream. Forbes reports that Twitter's stock has fallen 17 percent this year, and the second quarter of 2016 was the eighth consecutive quarter that Twitter has faced declining revenue. Twitter is selling ads during the games in an effort to increase revenue.
Next Thursday, visit tnf.twitter.com to check out the NFL Twitter live stream.