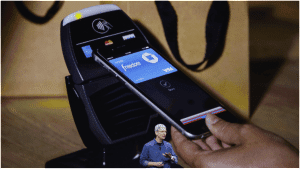 Will Apple Pay change today's society? Forgetting your credit card or debit card will no longer be a problem with this new feature offered on both of the i-Phone 6 and the Apple Watch. Apple is always finding new ways to persuade consumers to upgrade their phones. This time it's collaborating with several credit card networks and banks such as: Chase Bank and American Express to make people's lives easier. However, will people be willing to buy a new phone just for this?
It appears that people aren't wowing anymore about Apple's frequent updates. Yet, Apple always finds a way to bring them back. This time one of the reasons Apple has again succeeded is because of the Apple Pay feature. Apple Pay is a secure way to make mobile payments by using their latest devices. Karen Webster, CEO of Market Platform Dynamics, says Apple Pay could be the Gorilla in the mobile payments ecosystem.
According to the Wall Street Journal and Eddy Cue, Apple's senior vice president of Internet software and services, with Apple Pay a cashier doesn't see your name, credit card number or security code. Apple will also not know any specific details of your purchases –what you bought, where you bought it or how much you spent.
This service will start in October and it will not only change the world's cellphones, but businesses too. As of now, not all business are willing to participate with this new service, such as: Walmart.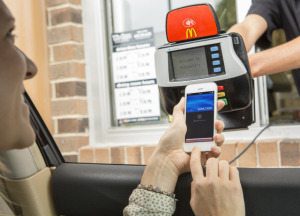 So, are people willing to upgrade and purchase these new devices for Apple Pay? Let's wait and see how things start to look after October.