After months of anticipation, Apple finally introduces us to the largest model in the iPhone family. The iPhone 6 Plus, featuring a 5.5-inch display, showcases a Full HD screen and an enormous battery life. But I can't help but wonder, why would someone buy an iPhone 6 Plus when it seems to do the same thing as the latest version of the iPad mini?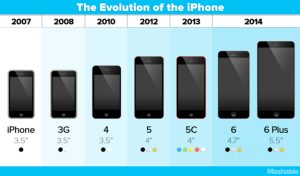 Fall Gift Guide: The iPhone 6 Plus Is At The Top of The List 
If you are a dedicated Apple consumer like most college-aged students, you've most likely invested in some version of the MacBook, iPad or iPhone. Or maybe even all three. And if you're anything like me, you know very little about technology and the inner-workings of any Apple device, yet find yourself a repeat customer at the Genius Bar.
After months of speculation and pent up excitement about the new phone, Apple released the most technologically advanced personal devices available to consumers. Boasting a sleek metal casing and large display, the iPhone 6 Plus fiercely resembles the iPad mini with Retina display.
Who does it better: iPhone 6 Plus or iPad Mini?
The Average Joe would claim that the iPhone 6 Plus is like a shrunken version of the iPad mini with Retina display—differing only in its ability to make phone calls. According to Apple statistics, the new iPhone 6 Plus features a higher screen resolution than both the older iPhone and iPad mini's display. In addition, the iPhone 6 Plus offers other upgraded elements such as optical image stabilization for the camera and a longer battery life. Not only does the new device present a larger screen and completely new design similar to that of the iPad, the iPhone 6 Plus offers a faster processor and Apple's new Apple Pay payment system.
With the exception of the Apple Pay payment system, The iPad Mini with Retina display has these same features as the iPhone 6 Plus. And both devices also run on Apple's newest iOS 8 operating system and house a full stock of iOS apps. So what's the need for both devices? 
Less is More: iPhone 6 Plus Does It All 
It's the iPhone 6 Plus that really gives business users an advantage, with a screen that's large enough to fully edit a spreadsheet or review a presentation, but still sized to fit in a men's jacket pocket. Traveling withan iPad mini as well as an iPhone was very common, since the iPhone screen was too small to really work on. However, Apple's updated iPhone 6 Plus could change this common trend. For both business and personal users, the iPhone 6 Plus might offer enough to become their sole mobile device.
For more information about the iPhone 6 Plus and iPad Mini: https://www.apple.com/iphone/