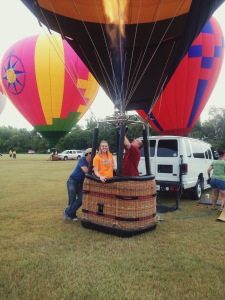 The 2014 InTouch Credit Union Plano Balloon Festival festivities began this morning at 6:00 a.m. at the Southfork Hotel with a quick media and pilot briefing before heading to Oak Point Park. The media spectators were fired up with excitement as the hot air balloons began to inflate!
This year's Festival marks 35 years of Ballooning in Plano, Texas! It offers a family-friendly environment, unique news coverage for media, and support of local non-profits.
Family-Friendly Weekend Event
The 2014 InTouch Credit Union Plano Balloon Festival welcomes the public for the official opening at 4 p.m. Today's events include a RE/MAX Parachute Team Exhibition and Balloon Launch presentation, a Balloon Glow presented by Direct Energy, and two performances by Vocal Trash (a musical group often referred to as "Glee meeting Stomp"). The Festival offers a family-friendly atmosphere, complete with entertainment and food vendors from over 40 local non-profit agencies, independent vendors and sponsors.
The Central Market Kids Fun Zone includes a KDFW Fox 4 Community Stage, rock climbing zone, face painting, and inflatable rides! Tethered hot air balloon ride tickets for ages 10+ are available for purchase onsite.
The 2014 InTouch Credit Union Plano Balloon Festival will host a 1/2 marathon, 5K, and 1K run on Sunday morning. Participants of any of the races will be automatically entered in to the random prize drawing for a hot air balloon ride!
Non-Profit
According to the official website, "The Plano Balloon Festival, Inc. is a non-profit organization that is dedicated to producing a family oriented, high quality event that offers other local non-profits an opportunity to assist in the operations of the Festival." They have dispersed an excess of 2 million dollars to local non-profits over the past 34 previous years of its existence.
Social Media
Keep up with all of the action by liking them on Facebook or on Instagram @PlanoBalloon.